Click here for the results of the Grand Prize Drawing!!

MasterCard and Visa Accepted.

The secret weapon against fat. This product was formulated to suppress the appetite and increase the energy level resulting in weight loss.
ALL NATURAL NUTRITIONAL SUPPLEMENT
Exclusively By
DUTCH INTERNATIONAL PRODUCTS, INCORPORATED

Try our other Products!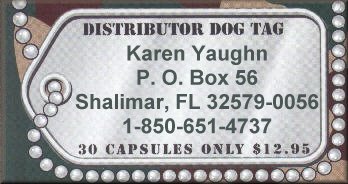 For secure online MasterCard and Visa orders, go here: Safeshopper
For International Orders
DeAnn Haase
PSC #1 Box 1178, APO, AE 09009
Home Phone: 06372-509128




If you wish to exchange banners, contact Karen
Please visit our sponsors.